---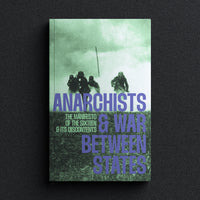 Sale
Anarchists have never shied from internecine quarrels. But none tops the level of discord triggered by World War I, and anarchists' positions on it. We've compiled as much of the (printed) debate as we could find so we can all handily see the depth of the disagreement that shattered relationships.
Features essays by Peter Kropotkin, Thomas Keell, Alexander Berkman, Luigi Fabbri,  Alexandre Ghé, Errico Malatesta, Robert Selkirk, Joseph Leguépin, and Auguste Bertrand.
170 pages
Supplemental materials:
Here we present a list of texts mentioned within the pages of this book so that you can consult them yourself:
Wars and Capitalism by Peter Kropotkin
Modern Science and Anarchism by Peter Kropotkin
Words of a Rebel by Peter Kropotkin
Antimilitarism and Revolution by Peter Kropotkin
De la Commune a l'Anarchie by Charles Malato [French]
Philosophie de l'Anarchie by Charles Malato [French]
"A propos d'insurrection." by Errico Malatesta [French]
Anarchie by Peter Kropotkin
The Policy of the International by Mikhail Bakunin
"Anti-Militarism: Was it Properly Understood" by Errico Malatesta
Deuxieme Lettre—Un Désaccord [French], the final text from this pamphlet is featured in the book, the preceding correspondence is between Jean Grave and the group claiming the name Groupe de Temps Nouveaux.
Here is the entirety of the Plus Loin series from 1928 (all in French), some of which is included in this book:
Le procès des Seize – Auguste Bernard, Plus Loin N°39 – Juin 1928
Dans la mêlée – P. Reclus, Plus Loin N°40 – Juillet 1928
Les devoirs des révolutionnaires et la guerre de 1914-1918 – Christian Cornélissen, Plus Loin N°41 – Août 1928
Le débat sur le Manifeste des seize – une lettre de Louis Descarsins – Descarsins et M. Pierrot, Plus Loin N°43 – Octobre 1928
Nos discussions – À propos du Manifeste des seize – M. Isidine, Auguste Bertrand, Jean Wintsch et M. Pierrot, Plus Loin N°44 – Novembre 1928